31 May 20223 min read
The Stoic Architect
Lorraine Hickish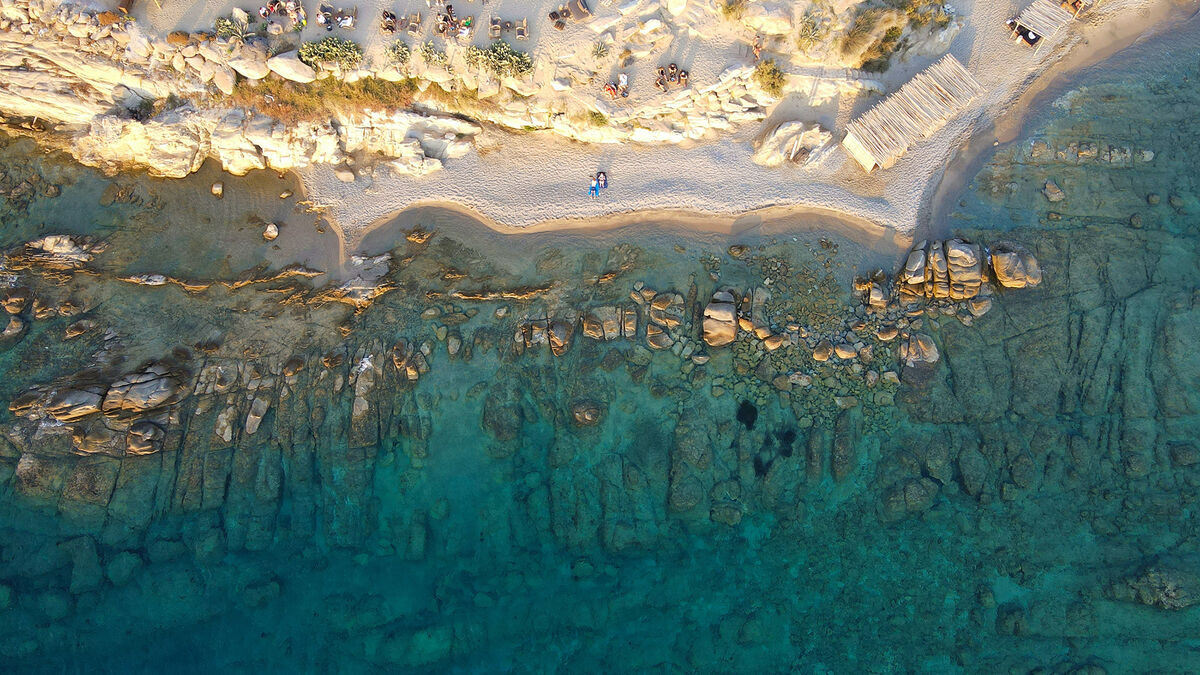 We recently joined an intimate group of designers and suppliers at the inaugural Sleeper SESSIONS in Mykonos. Lorraine Hickish recounts her experience.


From start to finish the Sleeper Sessions in Mykonos was a journey of exploration. The coach drive from the airport to our wonderful hotel certainly let us acclimatise to the mountainous island, and a welcome dinner on that Tuesday night allowed everyone to immerse themselves in the wonderful venue — Royal Myconian, with its opulent and bold interiors.
On Wednesday morning, the event kicked off with the keynote symposium by K-Studios' Dimitris Karampatakis. Dimitris took us on a journey through Greek history, as a graphical representation of the ever-changing architectural dynamic and its relation to the island landscape.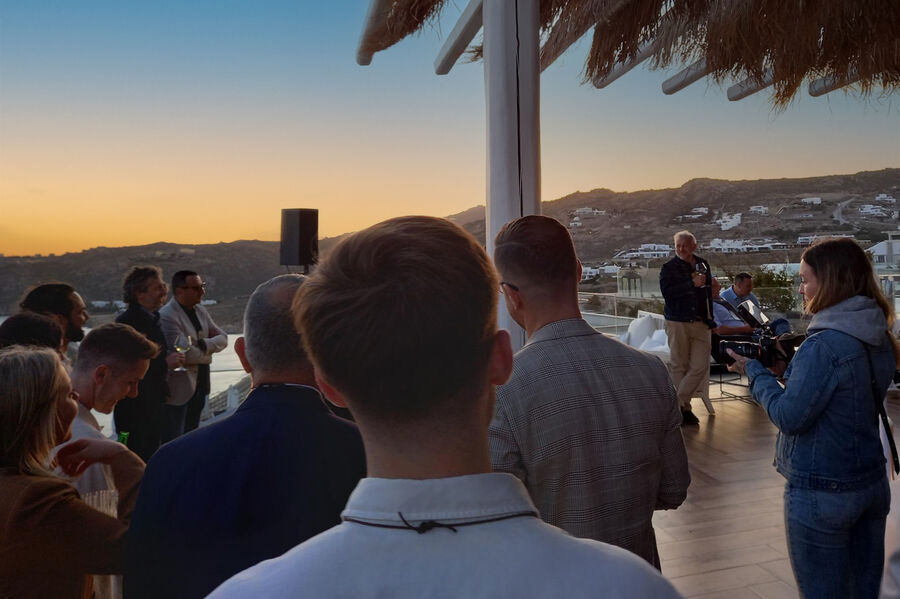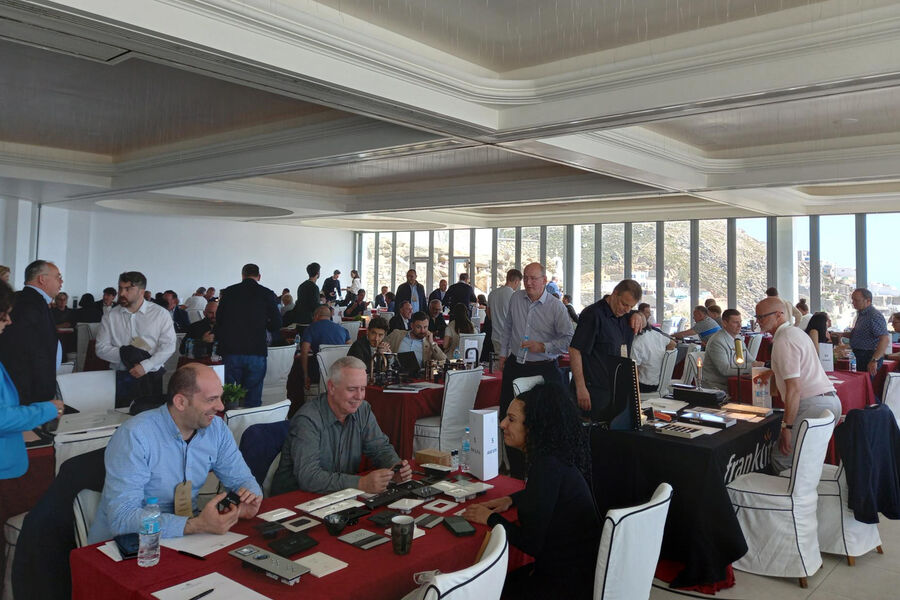 A stoic approach?
The afternoon symposium, 'Stoically Speaking,' led by Massimo Pigliucci, left me pondering much of what we could take from this way of life into our working day.
We all think of being stoic as someone who is very British with a stiff upper lip, however, Stoicism was born in Hellenistic Greece and became popular in the Roman empire. As Christianity emerged practices and concepts of Stoicism remained. Today the Serenity Prayer recited at Alcoholic Anonymous meetings is an incarnation of a Stoic principle enunciated by Epictetus:
What, then, is to be done?
To make the best of what is in our power and take the rest as it naturally happens.
To me, it aligns with living mindfully, thinking about what is happening right now as the only thing you can fully control. The past cannot be changed, and the future is at the mercy of an endless number of intervening factors. If you are morally comfortable with a decision at that point in time, can it be wrong?
In the end, of course, Stoicism is simply another path some people can try out in order to develop a more or less coherent view of the world, of who they are, and of how they fit in the broader scheme of things.
Massimo Pigliucci
Professor of Philosophy, City College of New York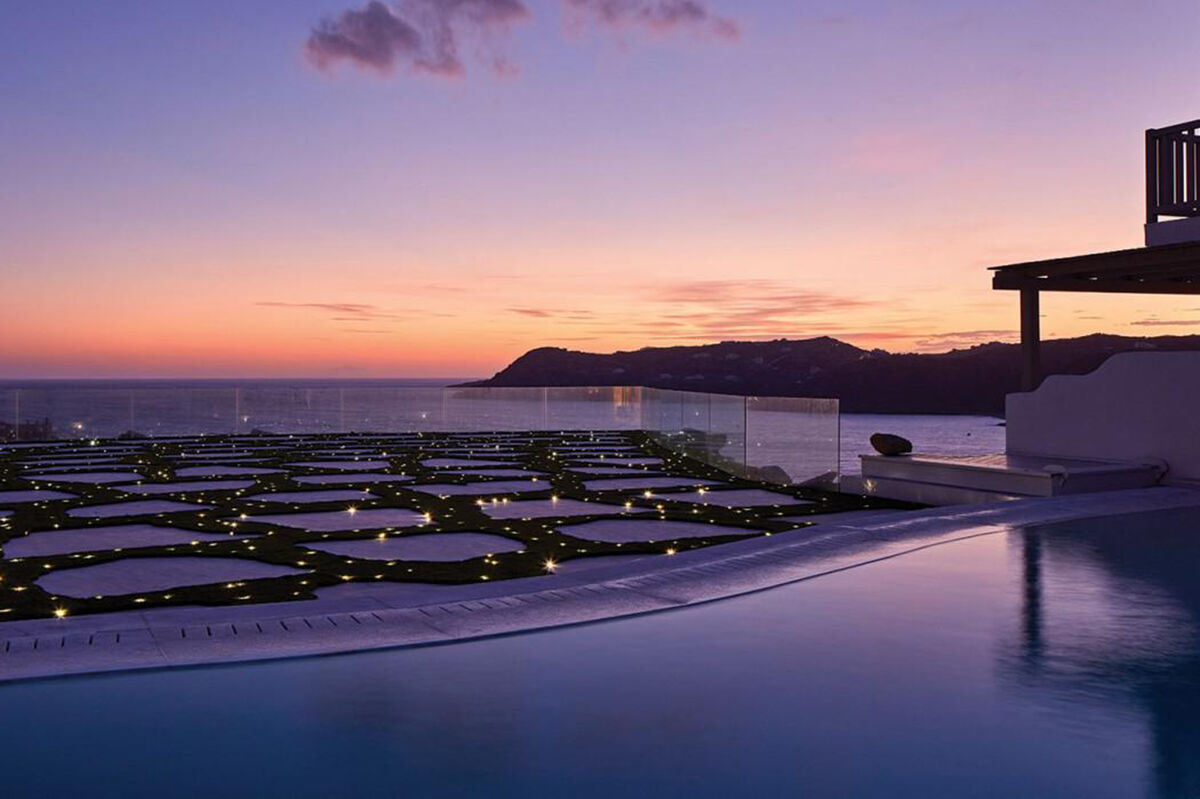 So how can this help us in our working day as architects and designers?
Our projects involve an infinite number of opinions from clients, other consultants, and our peers. Constantly changing environments and economies, along with an endless potential set of outcomes. Our day-to-day work can easily become bogged down with assessing every potential eventuality. This can cloud our creativity and maybe we need to remember this and focus fully on what is right here, right now and how we can positively change that outcome for the better.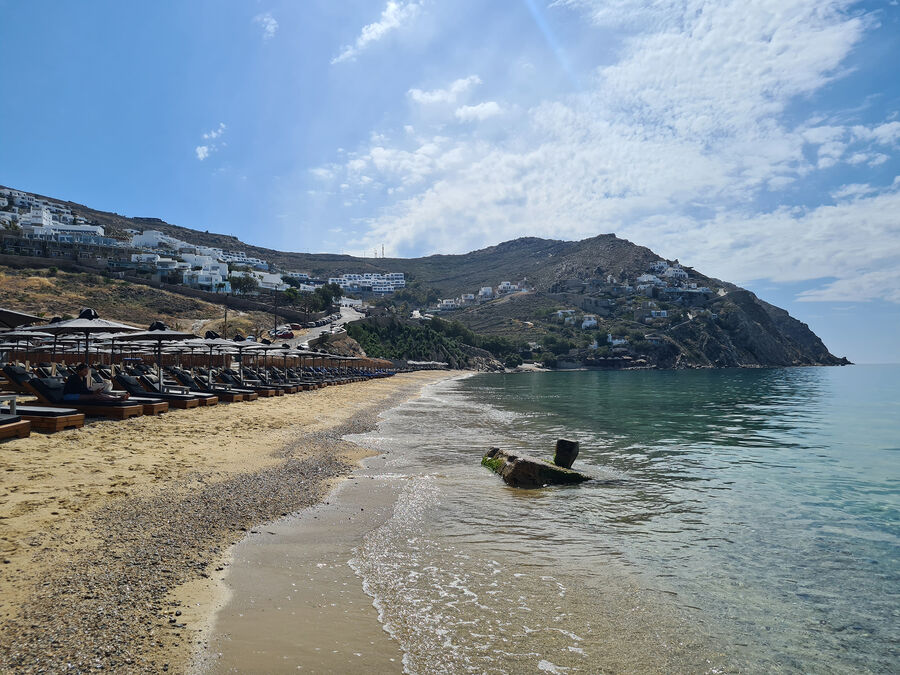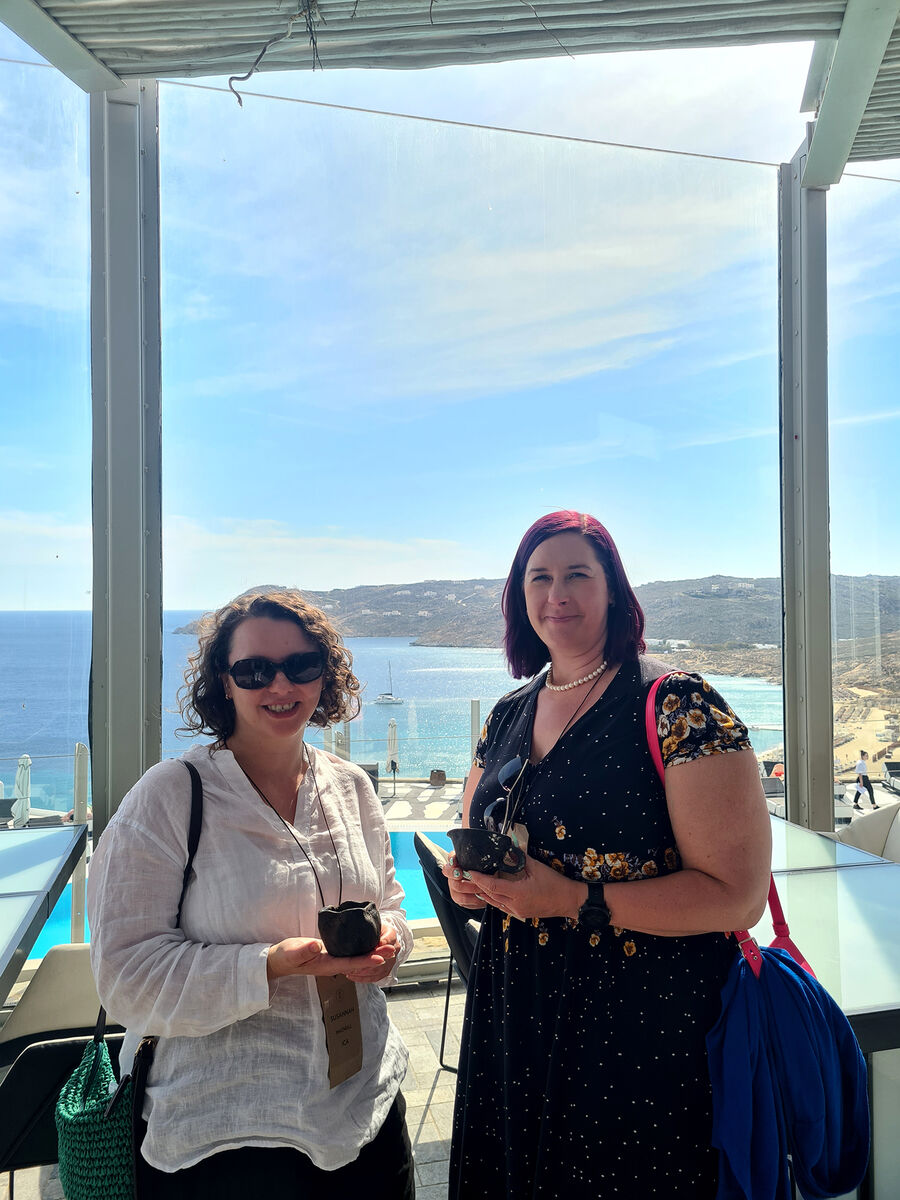 The 20-minute sessions felt like speed dating but allowed for an ideal introduction to current trends and products.
---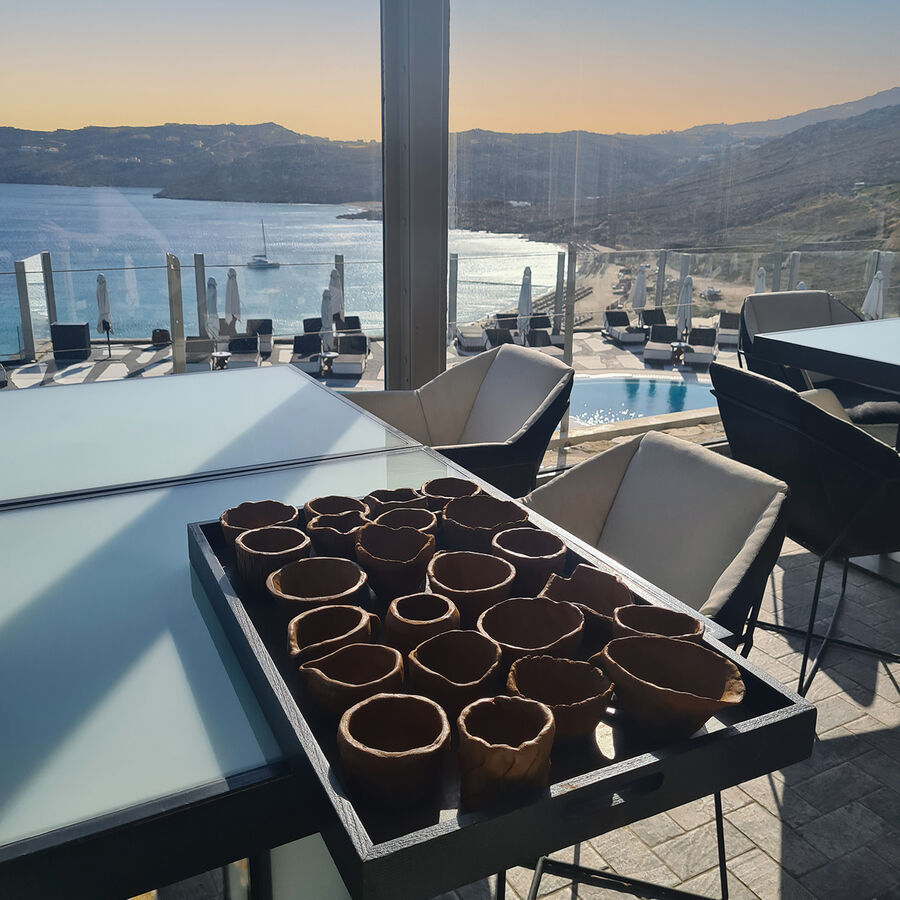 Pit-fired pottery
For our sustenance session on Wednesday, we took part in primal pit-fired pottery with Iasonas Damianos. Hand building our pots overlooking the sea provided a wonderfully creative and grounding experience.
Scattered between the talks were one-on-one supplier meets, which allowed Ica time to reconnect with current suppliers and meet new and interesting options. The 20-minute sessions felt like speed dating but allowed for an ideal introduction to current trends and products.
Day two unfolded more of the same. Meeting more suppliers and listening to Design Dialetics Symposia by Maria Vafiadis, Ria Vogiarzi, Constantina Tsoutsikou and Katja Margaritoglou.
Our closing dinner was held at the exclusive Soho House Scorpios Mykonos. Designed by K-Studio, this beach club uses natural materials to create rich, opulent layered spaces which embrace their location as the rugged landscape sweeps down to the sea. It was the epitome of cool and the perfect way to wrap up a few days spent discussing all elements of hospitality design.
The sun set on our inaugural Sleeper SESSIONS with a closing dinner at the magical Scorpios, a contemporary interpretation of the ancient Greek agora, designed as gathering place meant to galvanize the artistic, spiritual, and social life of its community.
Sleeper Magazine
---
Related Topics
Related Articles