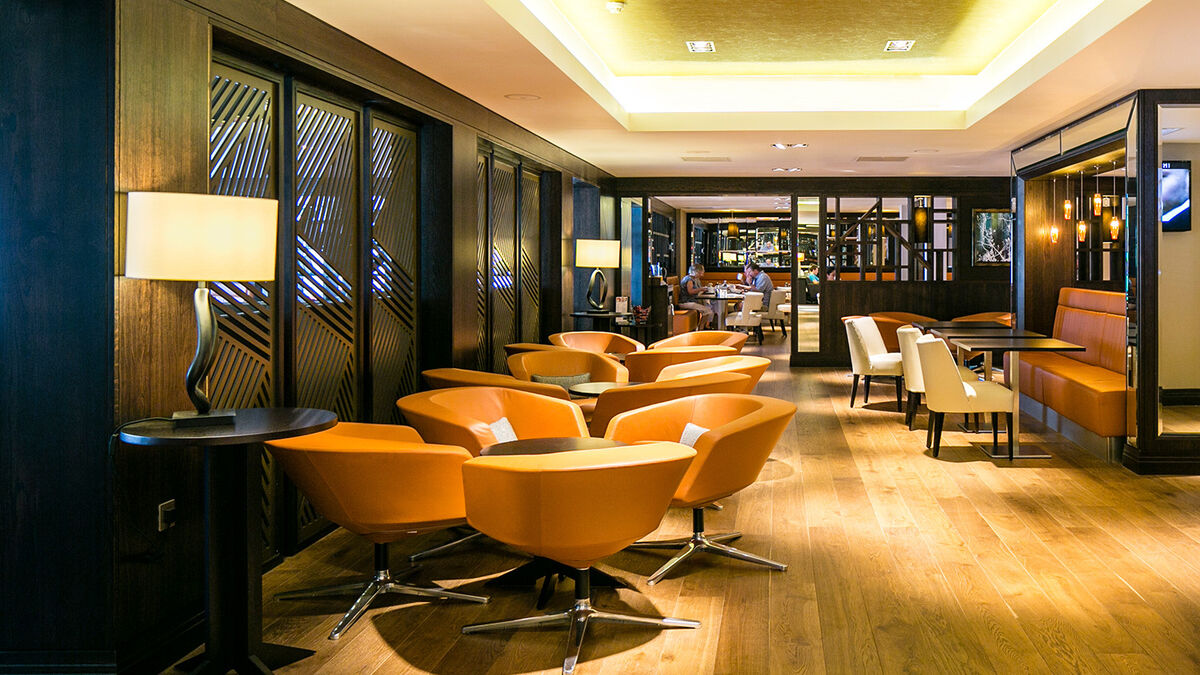 Opulent. Warm. Moody.
---
Type
DoubleTree by Hilton
---
Status
Completed
We were appointed to transform a former hotel on the fringes of leafy Ealing Common into a DoubleTree by Hilton hotel. The refurbishment included all 189 bedrooms, a reception area, a bar and restaurant, a ballroom, meeting rooms, a new Business Lounge, a new Gym and a new External Terrace.
The Client brief for the bedrooms was clear. They recognised the hotel was widely used by business travellers, therefore creating a comfortable guest room experience with a good working space was key. The small footprint of the bedrooms presented a challenge. Our aim was to incorporate all of the brand requirements while creating a scheme which reflected the hotel's natural setting.
Using a warm palette of timber shades and splashes of burnt orange we transformed the rooms and created a contemporary look with an emphasis on comfort. The Client wanted the Bar and Restaurant to have a 'destination' look and feel with the intention of attracting local clientele to dine and frequent the bar, whilst maintaining its strong market position as a venue for corporate events and weddings.
By creating zones within the existing open-plan ground floor space, it allowed us to provide areas which could cater for larger groups and smaller pockets of comfort for a more intimate experience. The use of dividing screens positioned strategically throughout the space, a mix of seating styles and bespoke feature pendant light fittings create a contemporary look. The use of leather and luxury fabrics in conjunction with natural honey oak flooring, dark timber shelving and accents of burnt orange add a layer of comfort.
The Reception, Business Lounge, Meeting Rooms and Ballroom all flow from the same design inspired by the natural surroundings of the hotel. A radical approach by our Architects to the external scheme utilising bold blocks of contrasting colour, re-spraying existing windows and fascia panels, and new illuminated DoubleTree signage and the transformation was complete.